I will be performing a refit on my side pipes this weekend. I have opted for the classic Chambered, 3" I.D. Cobra Pack. I am going to be using the 28" version, which will be a bit quieter than the 24" "Stock" length.
So long as Fed Ex freight cooperates, I will get some pics of the fabrication work and what it takes to get the conversion done.
The Classic Chambers are a very reasonably priced conversion tube. My set, which are at the top of the price list, were just a tick over $200.00, delivered. The owner of Classic Chambered, Erick, seems to have a very good understanding of what he does for a living and is extremely helpful in selecting a tube design. He actually builds the tubes, these are not off shore, mass produced tubes.
Well I got started on the retrofit yesterday. I ended up opening up not only the stock muffler, but the new Classic Cobra Pack as well. I wanted to forever end my question of what was in there. That included the new muffs too. That led to a couple of hours of muffler design research on the web. Well I have learned the following, so far.
I started with a 20" long x 2.5" I.D. Glass pack (Stock Kit Pipe) This is my car in stock form.
Stock tube removal
Whats in here?
OK. The work is done. Let me say that I am very impressed with the Classic Chambered "Cobra Pack" retrofit mufflers. The car sounds awesome. Much deeper, quieter and the high frequency racket, that made my roadster sound like a Cambodian Trawler, is all gone. Reversion popping is reduced by a very large percentage as well. That is another attribute that my car exhibited that irritated me to no end. I am glad to have it gone. The mufflers that I utilized are Classic Chambered, 3" Cobra Packs, "Packed" They are available "packed" or "un-packed" for the truly adventurous.
I was skeptical when I opened my boxes. So skeptical in fact, that I cut one of the new Cobra Packs apart to look inside. I also spoke with Erick, the owner of Classic Chambered, at length, while spreading the guts of his muffler out on my bench. Initially, I was less than amused that I had another glass-pack style muffler on my hands. I had visions of a "chambered" muffler. Classic does make those, but these were not it. I ordered wrong. How different could it possibly sound? I mean, a glass pack is a glass pack right? I had glass pack guts spread out all over the bench and fiberglass strands in places they should never be, in order to further my understanding of what a glass pack is, what it does, and why. Erick is a very forthright guy and explained why his "Cobra Packs" would sound substantially different. I fully expected that this would prove untrue and continued with the install in a skeptical "this is going to suck" thought process. A chambered tube / resonator combo was already in my mind and Erick would be happy to build me two. He remained confident that I would love the 28" x 3" Cobra Packs"
To look at the muffler, it is a glass-pack, just like our stock tubes. The construction is very good. Other than the size of the hole down the middle and the longer body, it rather seems identical. The diameter of my new "Cobra Packs" at 3" is larger by 1/2", over the stock tubes @ 2.5" I.D. which really ends up to be 2.250" once past the approach throat of the perforated tube. The louvers in the "Cobra Packs" are a bit different, in they are located in a helical pattern that is a bit tighter than the stock tubes. The packing is substantially different between the two. One is a random roving mat and the other a unidirectional, stranded mat.I also selected a LONGER tube length. The stock tubes are 20". I went with a 28" inch tube length. My plan was to leave the collector alone and shorten the outlet elbow. I stood to reason that a 30% increase in tube length should work toward my goal of sound control. I was not disappointed. The other chief difference in my installation, was that I turned the direction of flow, to place the sound louvers (perforated tube) into the incoming exhaust flow. In theory, this should promote sound waves to telegraph through the louvers and into the packing. Again, I was not disappointed. This makes a big change in the pitch and volume of the exhaust note. I have become convinced that a pleasing, aggressive exhaust note is only partly a game of decibels. Frequency has as much or more to do with the overall presentation. The car now sounds very aggressive, in a controlled, frequency enhanced way.
My car is outfitted with Powerjection lll. One of the big benefits of the system is a very comprehensive laptop interface that shows me in real time, what the reference telemetry is doing while underway. I can tell you that the exhaust flow is enhanced with the 3" I.D. of this system. my engine is a 306, it stands to reason that additional benefits would be recognized on larger displacement engines, in a predictably linear manner. My fuel maps had to adapt with more fuel at peak torque points to normalize the AFR values. That is hard data that is beyond the mere suggestion of enhanced flow. The car also feels more responsive to the throttle. I could not be happier.
I attempted to perform the installation below, using common methods that should be within the capabilities of most advanced hobbyists, or a fairly routine, reasonable costs basis job for a local exhaust shop to perform. I have attempted to get rid of the difficult miter work, by the use of a reducing coupler at the merge collector to muffler intersection. If all headers were straight and plumb, it would not be an issue. In the real world, a little slack to gain some alignment allowance, without the need of compound miter cutting, may be handy to some folks. I also came up with a simple reinforcement of the mid tube hanger that is long standing problem for repetitive cracking. It is a low tech solution that is easy and effective. It wont win a design innovation award, but it should work well and be easily accomplished by most folks. David Borden will no doubt give me a good lumping over it.

I have not shown the guts of the Classic Chambered mufflers. I feel that they are Erick's property to display or keep a secret as he sees fit.
Onward.................
Here is what is in there. This is a stock Perforated Tube.
The choke point in the stock tube
Stock tube on top, Classic Chambered 3" on bottom. Lower right has been disassembled and welded back up. The diameter difference is striking.
Inner Perforated tube / Stock Muffler
Inner Perforated Tube / 3" "Cobra Pack"
The "louvers" are typically installed with their back facing the exhaust flow on the stock tubes. At least that is what I found on my stock tubes. I installed the new "Cobra Packs" with the louvers facing the exhaust flow. My mission was to get as much sound wave into the matting as I could.
I formed these reducing couplers in the shop. They are made from 3.5" Walker exhaust tubing, expanded to 4". They slip over the collector and muffler tube in a fairly tight fit. They get cut back to approximately 2" OAL. The 3" end will slip up the collector to expose the intersection, then be pulled down onto the 4" tube. At that point, much angular adjustment is possible without mitering the collector or muffler tube. The tube can be mocked up, tacked in place, removed and bench welded. Even a slight "S" can be tweaked into the coupling if needed to overcome an angular offset problem, without looking too obvious.
We are all aware of this pain in the tail, repetitive hanger crack. Here is a simple fix. It is really easy to do when performing a retrofit.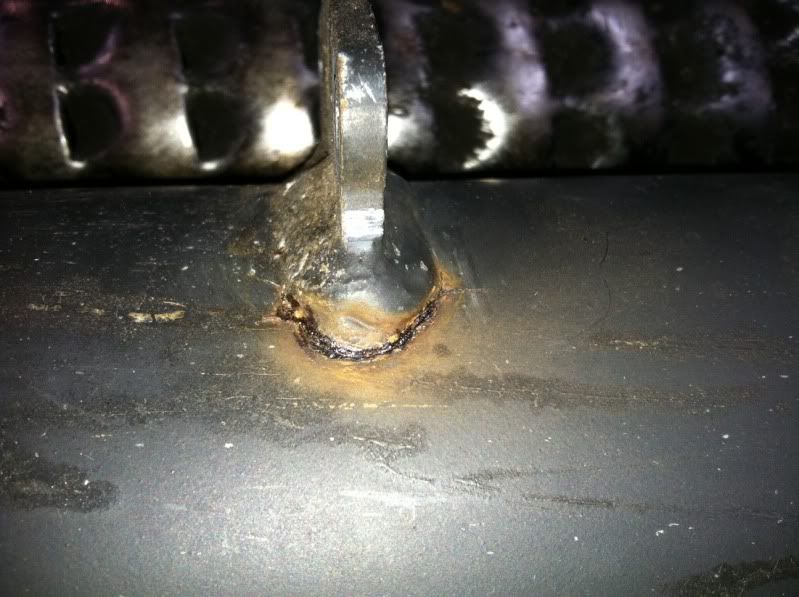 Cut a 1.5" band from the old 4" tube.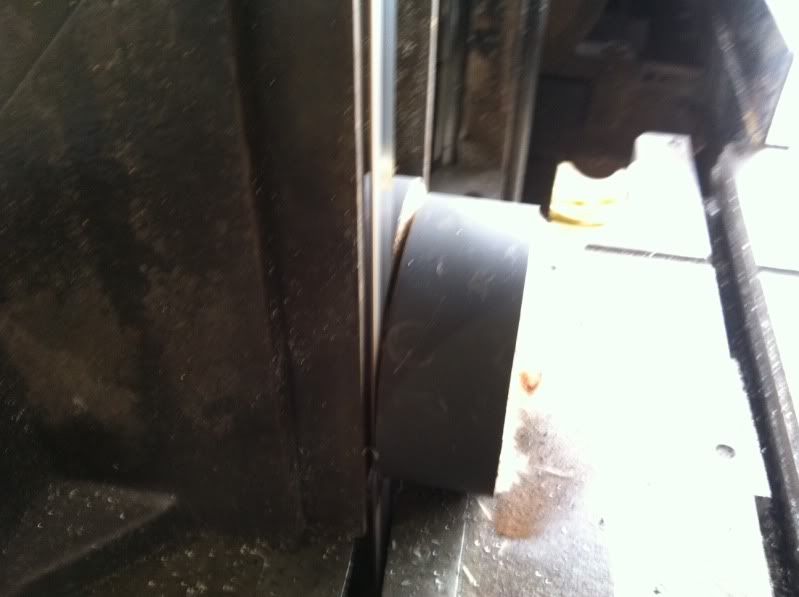 Cut it into a 180 degree section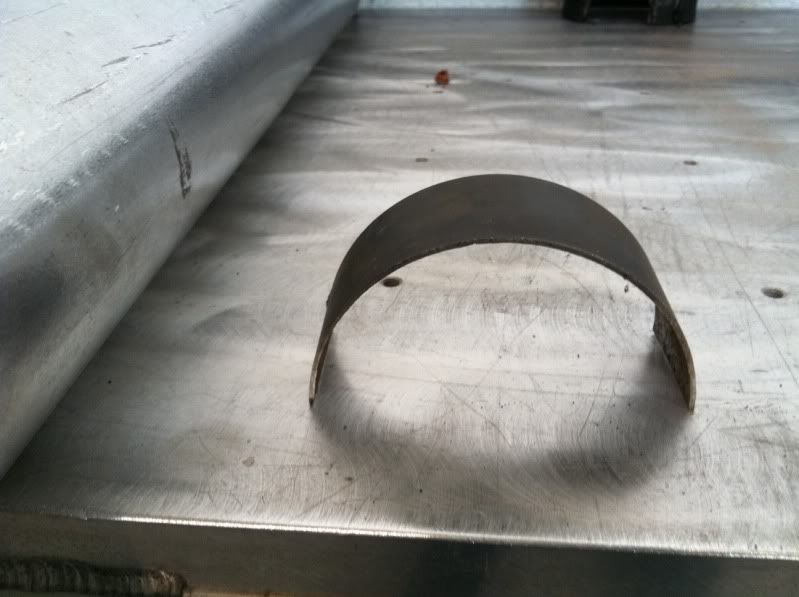 Slot it with some oversize to fit over the stock hanger bracket. Leave room to clear the tube to bracket weld bead.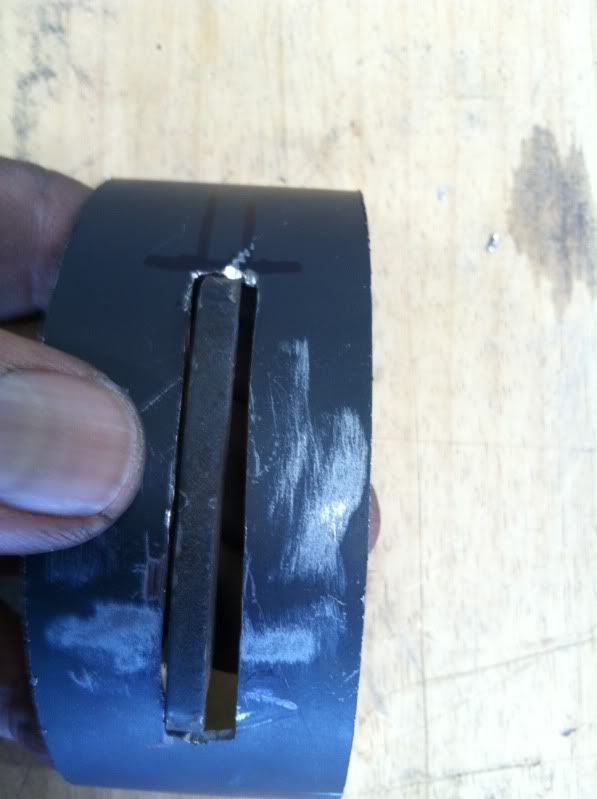 Make sure you get a 2200 lb drill press involved for drilling a few 1/4" holes through the band!
The holes provide a place to plug weld the band in a few places. Alternatively, the band can be quickly welded to the muffler casing and hanger bracket. This should distribute the load much better and reinforce the connection enough to prevent future cracking.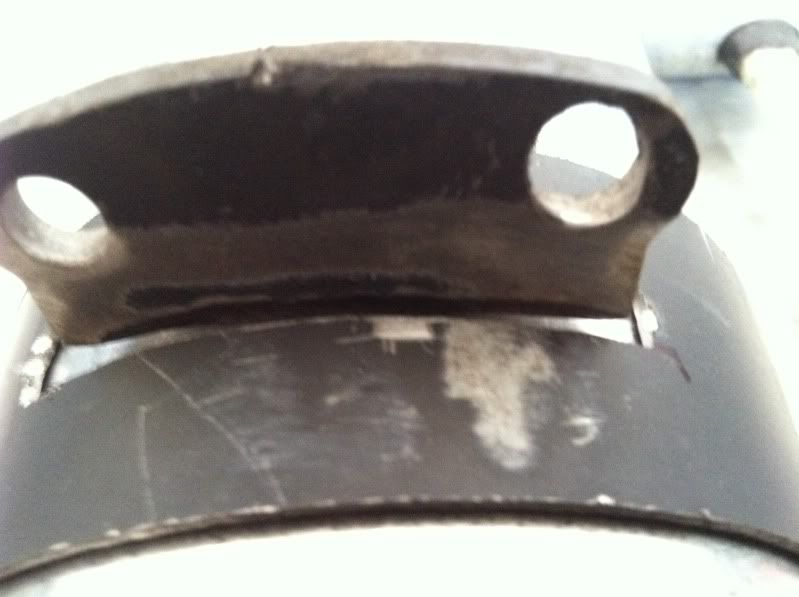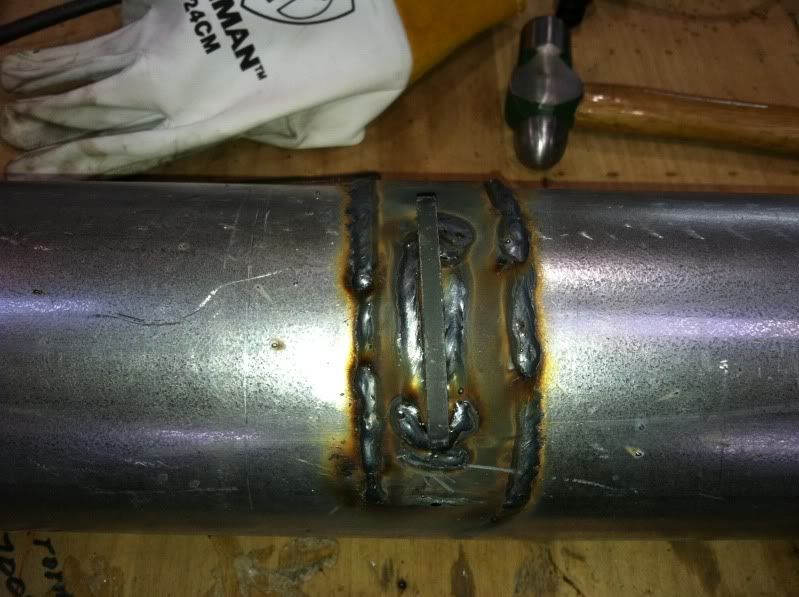 I shortened my tail elbow to 6" OAL before welding it up. I also rotated it downward to a 50 degree orientation. Now I can really blow dust all over my black car! I found that bouncing the sound waves, off the pavement, actually changed the sound a bit. Less high frequency tone is the result.
A completed retrofit, ready to go.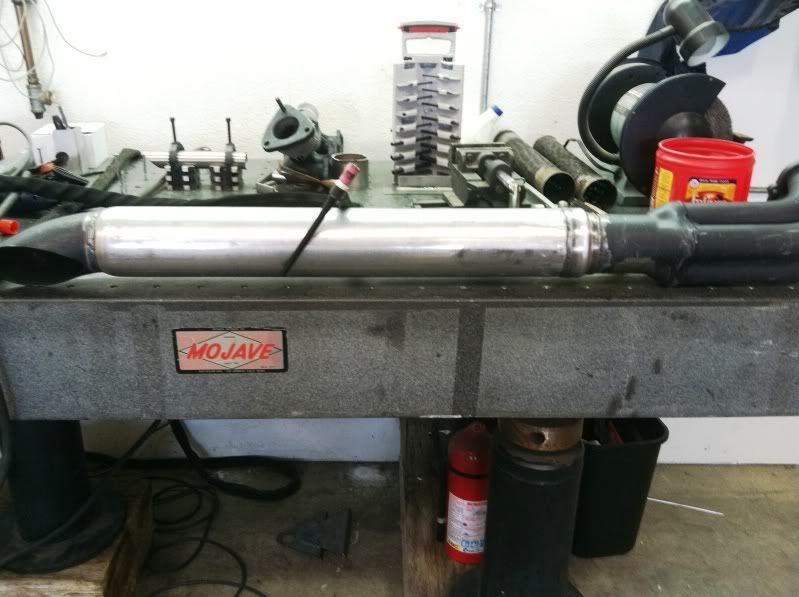 Heat shield on and back on the car. The outlet is about 1" closer to the rear fender. I think it needed to be. I really like the look of the 50 degree turn-down of the outlet.